MFJ-1846, HEX BEAM, HF, 6-BAND, 6/10/12/15/17/20M, 1.5kW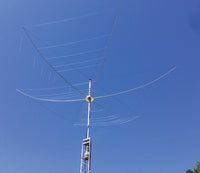 MFJ-1846 Hex Beam
New Hex Beam from MFJ delivers solid gain and directivity on 20,17,15,12,10, and 6 Meters in a low-profile package that will have your pocketbook and your neighbors smiling!
When it comes to lightweight directional HF antennas, the MFJ-1846 Hex Beam tops the list for its low-profile footprint, solid construction, and DX-snagging design -- all for a truly affordable price. The MFJ-1846 uses an updated G3TXQ element configuration for improved bandwidth, superior front-to-back performance, and low SWR. However, that`s just the beginning! MFJ takes the Hex Beam`s unique balanced-tension framework to a new level with rugged mounting hardware, exceptionally durable spreaders, and sliding antenna-wire guides -- all designed to ensure years of reliable service in tough 21st-century weather conditions.
Here are just a few of the MFJ-1846`s outstanding features:
[ ] Light weight -- mounts on a tripod, gable mount, or even chimney straps.
[ ] Proven directivity and gain from a time-tested design.
[ ] No touchy setup, 100% plug-n-play.
[ ] Rotates with an inexpensive rotor -- only 3.5 square-feet of wind loading.
[ ] Handles maximum legal power, all modes, all six bands.
[ ] Delivers full-band coverage without a tuner.
[ ] Great for contesting, QSY instantly between all six bands.
[ ] Just one coax feed, a real cost saver!
[ ] Sky-gray spreaders disappear against most backdrops.
[ ] Small footprint -- 11-foot turning radius fits cramped spaces.
[ ] Symmetrical footprint -- stays balanced when coated with ice and snow.
Great Value: Gain and directivity make all the difference when hunting DX or maintaining schedules, and the Hex Beam has a long history of delivering satisfying results where antenna options are limited. However, it`s no secret that these antennas are expensive for small companies to manufacture, a reality often reflected in the price! That`s where MFJ`s massive purchasing power and extensive manufacturing capability kick in to your advantage. It`s a matter of simple arithmetic, you`ll get more antenna for less money when you order the MFJ-1846!
Specifications:
Gain 5.3 dBi in free space (more over ground)
Front-to-Back Ratio 15 - 20 dB typical
Turning Radius 11 feet
Maximum Mast Size: 2-1/16" OD
Weight: 25 pounds
Wind Loading Surface: 3.5 square feet
Videos
Product Manuals
Download Product Manual