MFJ-1906, FIBERGLASS POLE, 33FT, 6FT/SEC, HOSE CLAMPS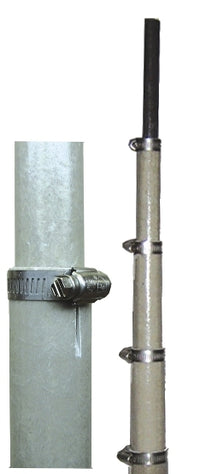 This super strong heavy duty telescoping mast is made of .125 " thick wall fiberglass tubing. This mast supports weight including yagis, verticals, loops, full-size dipoles, G5RVs and more.
- 33 ft. extended, 6 ft. collapsed, made up of six - 6 ft. sections.
- Weighs 13 lbs.
- Sections are secured together using Stainless Steel hose clamps
- Standard and H models have a 2" bottom and a ¾" top section.
Product Manuals
Download Product Manual