SDC-102, PROGRAMMABLE, SCREW DRIVER CONTROLLER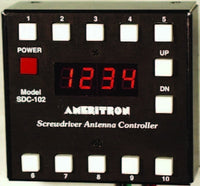 The SDC-102 lets you save 10 screwdriver antenna positions in memory. With a push of a button, you can quickly return to any saved position.
Up/Down buttons let you manually move the antenna to any desired position. A 4-digit turns counter with bright see-in-the-sun LEDs gives you precise antenna position.
The antenna always moves to its desired position from the bottom, insuring that the motor is always loaded the same.
Ameritron`s AutoPark™ feature automatically bottoms your antenna for parking in your garage and resets and calibrates your counter each time to eliminate antenna slippage and turns count errors.
Ameritron`s Dead-OnSTOP™ feature eliminates overshoot for dead-on stops.
Ameritron`s StallProtector™ feature shuts off stalled motors to prevent motor burnout.
Motor current can be monitored for signs of trouble and to determine stall current.
Motor direction can be reversed so the UP button is always up. Compatible with single/ dual magnetic sensors. 3 ½" x 3 ¼" x 1 ¼".
Product Manuals
Download Product Manual