ADM55-1E, DIGITAL 220 VACLINE VOLTMETER, 130-300V, EURO PLUG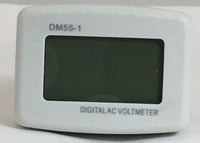 measures AC 130 to 300V, has Europlug 220V.

These handy digital voltage meters let you monitor voltage on your AC outlets on a large 1.5Wx.75H inch cool blue
LED backlighted display. Keeps you aware of brown-outs, over voltage or low power that could cause harm to your amplifier. Voltage digits are a huge 3/4"! Each plugs directly into your wall outlet and consumes less than 1 Watt about every killowatt hour. Accuracy is +/- 1.5%. Compact 21/8Wx11/2Hx11/2D inches.