SWR-66C, DIP COIL SET FOR SWR-584C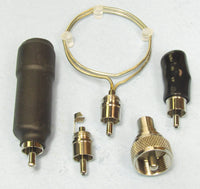 Plug one of these pair of dip meter coupling coils into your SWR-584B SWR Analyzer. Youll turn it into an accurate and sensitive bandswitched dip meter.
With a dip meter, youll save time and take the guesswork out of winding coils, measuring inductance and capacitance. You can determined the resonant frequency of tuned circuits and measure Q of coils. A set of two coupling coils cover 1.8 through 170 MHz with the SWR-584C.
Product Manuals
Download Product Manual