MFJ-1020C, ANTENNA, SWL INDOOR ACTIVE ANTENNA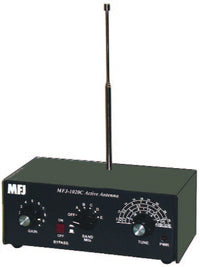 MFJ Tunable Active Antenna
MFJ invented the tunable active antenna! New technology uses a cascode FET/bipolar transistor and a gigahertz bandwidth buffer.

Numerous copies have been made without success -- including most recent ones. Why? Because MFJ has made continuous improvements where others have not. The MFJ-1020C has been completely redesigned with new technology.

With the MFJ-1020C tuned indoor active antenna you'll rival reception of outside wire antennas hundreds of feet long and pick up signals loud and clear from all over the world.

World Radio TV Handbook says the MFJ-1020C is a "fine value . . fair price . . best offering to date . . performs very well indeed."

MFJ's unique tuned circuitry minimizes intermod, improves selectivity and reduces noise outside the tuned band. You can also use it as a tuned preselector with an external antenna.

The MFJ-1020C covers 0.3 to 40 MHz including VLF, AM broadcast, all shortwave and all amateur radio bands. It has Tune, Band, Gain, On-Off/Bypass controls and SO-239 coax connectors. It uses a 9 volt battery, 9-18 VDC or 10 VAC with the MFJ-1312D. The MFJ-1020C measures 6W x 2H x 5D inches. It includes a 19' telescoping whip.
Videos
Coming Soon!!
Product Manuals
Download Product Manual