MFJ-281, SPEAKER, CLEAR TONE, 3.5 MM PLUG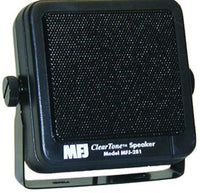 SSB FM, Am, and CW never sounded so crystal clear! Plug in this MFJ ClearTone speaker and bring out communication speech fidelity that you never knew existed.

It restores the smooth sound of sinewaves that CW naturally generates and make it easy to copy. THE MFJ-281 ClearTone speaker was carefully designed to improve the intelligibility of speech in the frequency range of 600 to 4000Hz while reducing undesirable noise, static, and hum.

A top grade 3 inch Mylar cone speaker is mounted in a well designed speaker baffle. A fine mesh metal grille allows sound to radiate without being muffled. Versatile swivel mounting bracket lets you direct sound where you want it. 8 Watts. 8 Ohms, 6ft cord, 3.5mm mono plug.

Compact 3 ¼" x 3" x 2 ¼".