MFJ-297, DESK MIC, WITH FLEXIBLE BOOM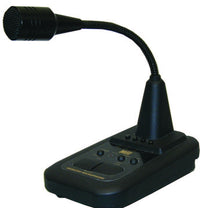 MFJ-297 Desk Mic
This MFJ professional-grade microphone is designed for ham radio communications where speech intelligibility makes the difference!
Frequency tailored microphone. MFJs unique frequency tailored microphone emphasizes essential speech frequencies to improve intelligibility. Your voice literally busts through noise and QRM with clarity!
DX or Broadcast quality audio Select SSB mode to give you smooth, articulate audio for powerful DX punch or select full range broadcast quality mode for crystal clear FM/AM operation. MFJs Sibilant Sound Shield™ lets you close talk to minimize background noise without distracting sibilant hiss. Extremely effective for field day, group contesting and amplifier fan or room noise.
Here are more outstanding operating features:
Has highly sensitive, premium grade condenser microphone element, low-noise amplifier with frequency tailoring and level control. Gives plenty of output for any transceiver or transmitter.
Flexible microphone boom lets you position your microphone comfortable at an optimum distance; you can sit back and relax for hours of operating without fatigue.
Convenient SoftTouch™ Momentary and Locking PTT Switch for fast contesting or long winded QSOs.
Frequency up and down switches; simple one finger operation lets you instantly tune your rig and operate PTT from your microphone. Requires compatible transceiver.
On-Air LED indicator lights when transmitting and flashes when receiving. Optional cables let you use most transceivers; keep your mic when you trade your rig or use multiple flexible boom. 1 lb. Uses 2 "AA" batteries.
Product Manuals
Download Product Manual