MFJ-283I, HT SPK/MIC, EAR VIBRATION, IC/YAE/RS/AL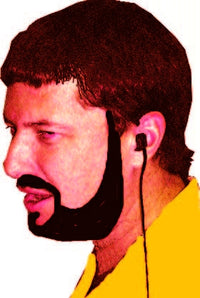 BLOWOUT SPECIAL!!! WAS: $22.46, NOW: $15!!!
MFJ-283I for Icom, Shack, Alinco, ADI and older Yaesu transceivers.

Lightweight
Comfortable
Superb Audio
All-in-ear integrated microphone and speaker
Highly sensitive vibration pick-up microphone
No separate microphone to fool with -- Its in your ear!

MFJs new Ear-Vibration Speaker/Mic uses a special new technology to provide you with a state of the art, high quality speaker Mic. The speaker and microphone are both integrated into the earpiece. A highly sensitive "Vibration Pick-up Microphone" in the earpiece picks up the vibration of your earbone when you speak and then translates the vibration into an electric signal transmission through your transceiver!

Because the "Vibration Pick-up Microphone" only transmits the vibrations from your ear, it is ideal for use in high ambient noise environments; while riding motorcycles, ATVs, bicycles, or while hangliding or parasailing.

Thumbnail size PTT and small Earpiece allows you to be discrete. The people around you may not even know you are talking on your ham radio. The back of the PTT is velcro for attaching to wool clothes or the velcro belt provided. The velcro belt can be wrapped around your finger or wrap it around the handle bars of your motorcycle or bicycle.

Two clips on the cord allow you to position and secure the earpiece and PTT to your shirt or coat comfortably -- it wont come off! 42 inches of durable cord allows convenient connection to your HT on your belt.

The "Vibration Pick-up Microphone" element is a Piezoelectric Accelerometer Microphone with impedance of 4.7K Ohms.

MFJs Ear-Vibration Speaker/Mics use a speaker element designed for operating at 40 mW nominal power and capable of handling up to 80 mW. The impedance is 32 Ohm +- 15% @ 1 KHz 60 mW sine wave.

The specially designed earpiece is shaped to conveniently fit in your ear for comfort. The soft shell is made of silicon rubber which has a good affinity with your skin and can be worn comfortably for a long time.