MFJ-117, LED CLOCK,2.5~,DISP 24 OR 12 HR,110 VAC,BAT.BACKUP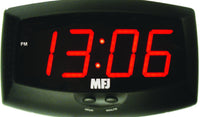 MFJ Giant RED LED Clock
SALE!  WAS: $64.95, NOW: $19.95!
These giant 2.5 inch super bright LEDs are nearly the width of a 2-Meter handheld -- you can see them from across the street, day or night!  Perfect for decreasing eyesight. 
Switch from 12 or 24 hour time.  You can mount it on your wall or on your desk.  Attractive silver color with bright red LEDs looks great anywhere! 
The clock measures 12W x 7.5H inches.  It uses a 9 volt battery for time backup.  Convenient hour/minute set buttons on the front panel.  It uses 110 VAC, 60 Hz.
Product Manuals
Download Product Manual