MFJ-123B, CLOCK, ATOMIC, SOLAR, GIANT, 12/24 HR, DESK/WALL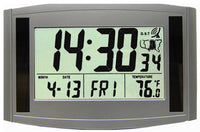 Solar Powered Eternity Atomic Clock
MFJ's exclusive solar powered Eternity Atomic ClockTM works for an "eternity"! No need for batteries or to set time! Receives WWVB signal.
Display is a whopping 3 1/2Hx6 1/4W inches with huge 2" time digits.
Choose 24 or 12 hour time.
Has indoor temperature, running seconds, month/date and day-of-week displays.
9 1/2Wx6 1/4Hx1D in.
Attractive silver metallic looks fantastic on the wall or desk mounted in the shack or office! Has power on/off switch for when clock is in storage or not in use.