LFA-6M4EL, LOOP FED YAGI, 6-METER, 4EL ARRAY, 5kW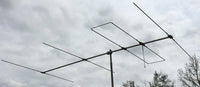 Cushcraft's computer optimized third generation G0KSC Loop Fed Array (LFA) yagis are specifically designed for low noise -- hear weak signals that others can't!
Highly suppressed side lobes eliminate unwanted noise and signal pickup from the sides making your desired signal pop out!
These wide-spaced LFA yagis have lower SWR, higher gain, better front-to-back and more broadbanded than dipole fed yagis.
Cushcraft's direct 50-Ohm feed has no lossy matching network that limits power handling. Cushcraft LFAs handle 5,000 Watts. Your actual operational power is limited by your coax, connectors and other accessories.
Cushcraft LFAs are also computer optimized for maximum strength using Cushcraft's exceptionally strong tooled parts to give years of reliable service.
All Cushcraft Super Heavy Duty 6-Meter LFAs have a 2-inch diameter double walled boom, 5/8" fully insulated elements and 7/16" outer tip sections. Climb your tower only once!
Tooled Manufacturing
Highest Quality Materials
Cushcraft`s famous super strong tooled die cast Boom-to-Mast Clamp
Tooled Boom-to-Element Clamp
Thick-wall swaged aluminum tubing
Tooled manufacturing is the difference between Cushcraft antennas and the others they just don`t have it, it`s too expensive!
Die-cast aluminum boom-to-mast bracket and element-to-boom compression clamps are made with specially tooled machinery.
Cushcraft antennas feature tooled swaged tubing that is deburred and cleaned for smooth, easy and secure assembly.
Durable precision injection molded parts.
Cushcraft antennas are stronger, lighter, have less wind surface area, better wind survival, need no adjustments, look professional and last years longer.
Product Manuals
Download Product Manual