MA-6B, MULTIBAND COMPACT BEAM, 6-BAND, 6,10,12,15,17,20M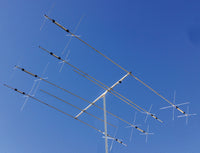 MA-6BCushcraft's latest MA-6B gives you 2-elements on six bands!
You get solid signal-boosting directivity in a bantam-size and weight.
It mounts on your roof or mast using standard TV hardware.
It's perfect for exploring exciting DX without the high cost and heavy lifting of installing a large tower and a full-sized array.
Its 7 foot 3-inch boom has less than 9 feet of turning radius.
Contest tough -- handles 1500 Watts.
The unique MA-6B is a two-element Yagi on 20/17/15/12/10/6 Meters.
It delivers solid power-multiplying gain over a dipole on all bands.
You get automatic band switching and a super easy installation in a compact 26-pound package.
When working DX, what really matters are the interfering signals and noise you don`t hear.
That's where the MA-6B's impressive side rejection and front-to-back ratio really shines.
MA-5B, $499.95. Like MA-6B but five bands: 20/17/15/12/10 Meters.
12 and 17 Meters is a single element trapped dipole.
See cushcraftamateur.com for gain figures.
Product Manuals
Download Product Manual