MFJ-1709,FOOT SWITCH, OPEN TYPE, 1/4~ PHONE JACK, RED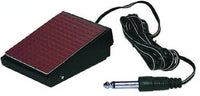 Add the luxury of foot control PTT transceiver operation. Great for MFJ-393 and other professional grade Boom Mic Headphones.
MFJ-1709 keeps your hands free for logging, computer operation and tuning. Greatly reduces fatigue and improves your efficiency -- could be the difference between winning and losing a contest.
Also can be used with Vectronics VEC-1680K, vacuum tube guitar pre-amplifier kit.
Compact 2 1/2W x 3 1/2D x 1 1/4H inches with non-skid pad with cushioned foot pedal. 1/4 inch phone plug. Ten foot cord. MFJs famous No Matter What 1 year limited warranty. MFJ will repair or replace (at our option) for 1 full year.