MFJ-418, CODE TUTOR, LCD DISPLAY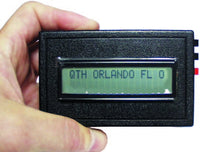 Learn Morse code anywhere, anytime with this MFJ Pocket Morse Code / CW Tutor! Take it everywhere! enjoy code at home, going to work, on vacation, on a plane or in a hotel -- no matter where you are. A large LCD display reads out letters, numbers and punctuation in plain English. See code as it is being sent! MFJs proven Beginners Course takes you from zero code speed to solid copy fast! Realistic plain English QSO practice helps you pass your FCC Code exam. High-Speed practice takes you to Extra Class and beyond... Practice copying entire words -- not individual characters. Instant word recognition makes you a true, high-speed CW pro. High-Speed practice takes you to Extra Class and beyond... InstantReplay -- check copy instantly! MFJs interactive mode lets you set the pace -- you decide when to copy the next group and how many -- not the tutor. Easy-To-Use -- choose from menus on LCD -- no instruction manual needed!
Beginners Course
QST rate MFJ tutors "the clear choice for beginners". Follows ARRL/VEC format. Learn small fixed sets of characters. Previously learned sets are combined with new sets to reinforce all you have learned.
InstantReplay
Practice copying, then instantly replay to check your copy on the LCD display.
Custom Character Sets
Having trouble with certain characters? Build and save 3 custom sets of 16 characters for extra practice -- an MFJ exclusive.
Realistic Plain English QSOs
Practice copying realistic on-the-air style plain English random QSOs. Gets you ready to pass your FCC test and upgrade. Also builds confidence for your first real contact.
MFJ Word Recognition Mode
MFJs word Recognition Mode gives you hundreds of commonly used words in ham radio. Practice recognizing entire words instead of individual letters. Learn to copy words without writing it down. Carry on an entire CW QSO without paper -- just like pros on 40 Meter CW. You can also save 10 words of your choice for word recognition practice -- an MFJ exclusive.
Youll never run out of practice
Select letter, number, punctuation, prosign or FCC character sets (has only letters, numbers and prosigns required on FCC tests), random call signs, random words, QSOs or combination sets for practice -- youll never run out of study material! You can even make up and save your own words and character sets for practice.
MFJ InteractiveMode
InteractiveMode lets you decide when to copy the next or previous group and how many -- great for beginners!
Normal or Farnsworth
Select normal or Farnsworth spacing. Farnsworth makes it easier to learn entire characters. Stop counting individual dots and dashes that slows learning! Farnsworth character speed is adjustable 10 to 60 Words-Per-Minute for high-speed practice.
Fixed or Random Length Groups
Use fixed length or more realistic random length groups (Up to 8 characters).
Change speed on the Fly
You can change speed on the fly while playing a session 3 to 60 words-per-minute.
Settingsaver
Setting are automatically saved, ready to use next time -- no more #$%@ resets! Turn it on, hit replay. Go back to practice!
No Instruction Manual Needed
Choose from easy - to - use menus on LCD. Simple 3 button operation.
Large LCD Display
Check your copy, select from menus and program custom characters and words on 2 line LCD display with 32 huge 1/4 inch high-contrast characters -- powerful sound and slight learning!
MilkySmoothSidetone
Only MFJ gives you SilkySmooth Sidetone with TruTone sinewave and SoftStart dots/dashes -- lets you concentrate on learning without the distraction of harsh keyclicks. Use earphones for private practice or built-in speaker for groups. Adjustable volume. Loud powerful audio amplifier. Variable pitch 300 - 1000Hz
True Pocket Size
Fits in your shirt pocket with room to spare -- smaller than a pack of cigarettes. Tiny 2.25x3.75x1in. Weighs less than 5.5 ounces. Uses 9 volt battery (Not included).
Tapes cant compare
Tapes play the same old boring stuff over and over again. Unlike tapes, youll never memorize the MFJ-418 random code sessions. Youll pay more for a few sets of code tapes. The MFJ-418 is less money, much more fun and far more effective.
Product Manuals
Download Product Manual