MFJ-561, PADDLE, MINIATURE TRAVEL IAMBIC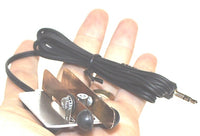 This miniature, lightweight Iambic paddle is just 1.75Wx1.75Dx.75H inches. Tiny enough to fit in an Altoids tin (cord and all!) for protection. Its perfect for traveling or for home use with QRP or "big" rigs. Throw it in your briefcase along with your MFJ QRPCub or your other favorite transceiver.
The paddle is precision formed from special phosphorous bronze spring material with an A150 temper. This gives you an excellent feel so you can send smooth CW.
Mounted on rugged metal base with non-skid rubber feet. Complete with four foot cord and 3.5 mm plug -- ready to plug into your keyer or rig!
Product Manuals
Download Product Manual