MFJ-1106, POWER POLE DC OUTLET, 1IN 6 OUT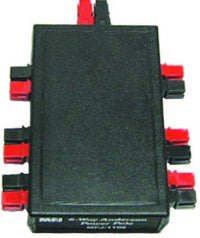 MFJ PowerPoleTM Distribution Box
MFJ-1106 is an inexpensive, compact, and low profile DC distribution platform designed for your operating station desk/workbench.

It contains seven Anderson Power PoleTM connectors all connected in parallel, permitting one DC input to be shared by six DC outputs.

Includes seven sets of mating connectors for your cables.

Any connector may be used as an input or output, and the total current carrying capability is 30-amps.

Unit measures 2 1/4W x 1H x 3 3/4D inches, not including the PowerPole connectors sticking out on three sides.
Videos
Product Manuals
Download Product Manual