MFJ-5114K, CABLE, AUTO TUNER TO KEN, 927/928/929/998/939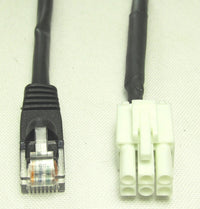 Pre-wired rig interface cable for MFJ-929, and MFJ-998.

The MFJ-5114K interface provides power and control signals between a Kenwood radio and the MFJ automatic tuner. Supported Kenwood radios are TS-50S, TS-450S, TS-480HX, TS-570S, TS-690S, TS-850S, TS-870S, TS-2000, and any Kenwood radio that supports the Kenwood AT-300 tuner.
Autotuner Interface Cables

MFJ-5114A
Most Alinco
MFJ-5114K
Most Kenwood
MFJ-5114I
Most Icom
MFJ-5114Y
Most Yaesu
MFJ-5114Y2
Yaesu FT-847 (MFJ-92X models only)
MFJ-5114Y3
Yaesu FT-1000MP/2000/9000
MFJ-5114Y4
Yaesu FT-2000 (thru TX REQ input)