ADL-1500X, DUMMY LOAD, 1.5kW, W/O OIL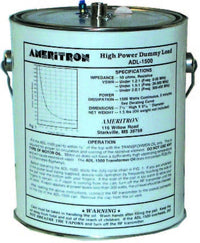 Ameritrons ADL-1500X legal limit dummy load lets you run the maximum legal limit of 1500 watts for a full five minutes. ADL-1500 has a heavy duty 50 Ohm resistor. Ameritrons Legal Limit dummy load gives you SWR under 1.2 to 30 MHz and low SWR to 400 MHz. Durable, sturdy gallon can measures 7 1/2 (height) by 6 5/8 (depth) inches.
This model does not include oil. If you would like to purchase this model with oil, please look at theADL-1500. You can also buy the transformer oil separately with the ADL-21.
Product Manuals
Download Product Manual