MFJ-251, DRY DUMMY LOAD, SWITCHABLE,16.6,25,50,100,150,HF+6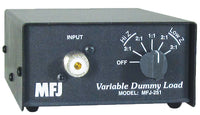 MFJ Switchable RF Dummy Load
MFJ-251 gives you five dummy loads in one box!
Select from 16.6, 25, 50, 100 or 150 Ohms with a front panel switch. MFJ-251 simulates high impedances and low impedances with an SWR of 3:1, 2:1 and 1:1 so you can test and calibrate your wattmeters and test SWR accuracy. At 50 Ohms it handles 300 Watts for 30 seconds with an SWR below 1.1:1 to 30 MHz. Covers Dc to 60 MHz. Has SO-239 connector.
Compact 4 1/2W x 2 1/4H x 6 1/2D inches.
Optional 12 VDC/110VAC adaptor, MFJ-1312D
Videos
Product Manuals
Download Product Manual