MFJ-4612, 2-HOLE ADAPTIVE CABLE WALL PLATE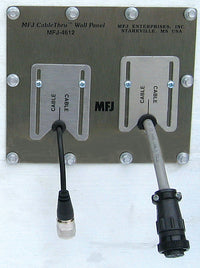 MFJ AdaptiveCable™ Wall Plates
MFJ's exclusive weather-sealed AdaptiveCable™ Wall Plates let you bring nearly any cable; rotator, antenna switch, coax, etc.; through walls without removing connectors.
Pass cable connectors up to 1 ¼" x 1 ⅝". Sliding plate adjusts hole size to weather-seal virtually any size cable. Rubber grommet seals out rain, snow, other adverse weather.
Complete kit includes 18 gauge stainless steel plates for each side of wall, sliding plates, rubber grommets, weather stripping and mounting screws. Models for one, two and four cables.
MFJ-4611 - Single Hole
MFJ-4612 - Two Holes
MFJ-4614 - Four Holes
Product Manuals
Download Product Manual