ICP-120, INRUSH CURRENT PROTECTION, 120V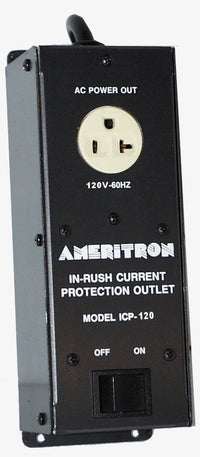 When you first turn on your amplifier, a massive inrush current gushes in. Your house lights flicker as you hear loud "thump" from your amplifier. This terrible inrush current stresses all your power supply components to their limits. Your cold tube filament suffers abusive thermal shock.
Eventually, this massive inrush current will damage your amplifier.
Ameritrons Step-Start Inrush Current Protector stops damaging inrush current. By starting your linear amplifier through a high power current limiting resistor and then shorting the resistor with a relay, you get a start up sequence thats easy on your tube and power supply components.
Now you can add this protection to your amplifier without complicated wiring -- you dont even have to take the cover off. Simply plug your amplifier power cord into the Ameritron Inrush Current Protector. By limiting heavy inrush current to safe low level, youll get a longer lasting amplifier. You might avoid replacing expensive tubes and components. Avoiding just one repair job could pay for this extended protection.
Momentary high-voltage "spikes" in the ac line can also cause damage to your amplifier. The Ameritron Inrush Current Protectors have built-in varistors to absorb these spikes before they can cause damage. Works with nearly all linear amplifiers. Ameritron ICP-120, for 120 volt wired amplifiers. Limits current to 12 amperes during heavy draw inrush period. 20 amperes continuous operating current.
Also available is the <a href=Product.php?productid=ICP-240>ICP-240</a> for 220V amplifiers.
Product Manuals
Download Product Manual