TPC-150, TRANSCEIVER OUTPUT POWER CONTROLLER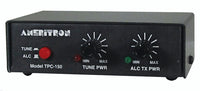 Rig Output Power Control

Use for transceivers without output power control to drive an amplifier or tune an antenna tuner.

Avoid over-driving your amplifiers and tuners.

Use with any transceiver and amplifier combination with external ALC.

Front panel transmit power and ALC control, in/out phone jacks for CW, Amp Key, ALC.

110 VAC 5 1/4W x 2 1/4H x 3 1/2 in.