TRP-150,TRANCEIVER Front-end PROTECTOR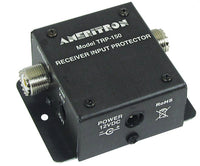 Transceiver Front-end Protector
TRP-150 protects your receiver front-end from high level RF signals.
Use this for added safety when operating in a multi-station contest environment and when another station is nearby.
Close proximity of a high power transmitter on one antenna can result in a potentially damaging RF signal being applied
to a receiver on a nearby antenna.
If both transmitters are on the same band, the filter on the receiver won't help and receiver damage can occur.
Connecting between transceiver and antenna, TRP-150 protects the rig during receiving and automatically bypasses it during transmitting.
SO-239 for RF In/Out and phono jacks for radio and amp keys.
Requires 12VDC for power.
Tiny 2 1/4W x 2 1/2H x 1 1/4D inches.
Product Manuals
Download Product Manual