ALS-500M, MOBILEAMP, 500W SOLID STATE, REMOTE READY, 13.8VDC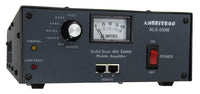 Ameritron mobile no tune Solid State Amplifier
- Mobile no tune Solid State Amplifier - uses four rugged PP-100 high power linear RF power transistors.
-Instant bandswitching, no tuning, no warm up - just turn on and operate - makes mobile QSOs safer.
-Very Compact - Just 3 ½" x 9" x 15" - fits in nearly any mobile installation; weighs only 7 pounds.
-Extremely quiet - quiet low speed, low volume fan stays off and silent until temperature rises.
-Output Power - 500 watts PEP, 400 Watts CW
Continuous Coverage - 1.5 to 22 MHz 10/12 Meters with easy to install optional kit.
-Load Fault Protection - disables and bypasses amplifier if antenna has excessively h high reflected power or if bandswitching is set lower than exciter frequency - virtually eliminates damage because of operating error; has Load Fault LED indicator.
-Thermal Overload Protection - disables and bypasses amplifier if temperature is excessively high; automatically resets when temp drop to safe level Thermal Overload LED indicator.
-Excellent harmonic suppression - multiple section output network, push-pull output circuit has excellent harmonic suppression.
-DC current meter lets you monitor collector current.
-ON/OFF Switch - bypasses amplifier for "barefoot" operation without having to disconnect high current power supply cables.
-Remote ON/OFF Control - lets you remote control ON/OFF function for out-of-the-way mounting of amplifier.
-Exciter Drive - less than 100 watts input gives full output. -Power Supply Requirements - requires 14 VDC at 80 amperes peak current for PA transistors and separate line for 14 - 16 VDC at 4 amperes for control and bias circuits. Made in USA.
You can now purchase our ALS-500RC remote control unit for your      ALS-500M! If the serial number on your ALS-500M is below 13049, you will need to purchase our ARF-500K remote kit as well.
Product Manuals
Download Product Manual