MFJ-854, METER, RF CURRENT METER, 1-30MHz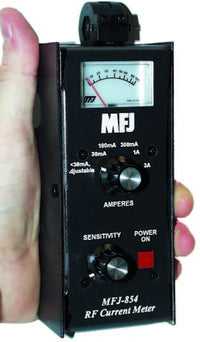 The MFJ-854 RF Current Meter reads true RF current!
It can accurately measure actual RF currents flowing in antenna elements, radials, ground wires and on the outside of coax feedlines. Study and optimize your antenna for peak performance.
Its also great for tracking down RFI causing currents on household wiring and cables.
MFJ-854s sense coil simply snaps over wires and cables for fast measurements on its easy to red meter.
You can select from five ranges to measure actual RF current from 30 mA to 3 amps full scale.
A sixth range has a variable sensitivity control quick, fast checks. At maximum sensitivity, RF currents of 1 mA or less will yield a usable meter deflection. This function is especially useful for tracking RFI pickup on household wiring and cables.
The MFJ-854 is sensitive enough to use an MFJ SWR Analyzer as the source to drive you antennas.
Here are some important features we think youll like:
Accurate: Linearity compensation circuitry assures accurate measurements especially at low RF currents.
Wide Range: Measure RF current from as little as 1 mA to 3 amps in six ranges.
Full HF Coverage: Accurate from 1 MHz to 30 MHz and usable beyond.
Low Interaction: Sense coil has minimal effect on circuits under test.
Handles most cables: Accepts cables up to approximately 1/2 inch in diameter.
Battery Saver: Press-to-test power circuit turns unit off automatically after 15 seconds.
Long Battery Life: Meter draws 3-mA, batterys service life approaches shelf-life.
Rugged: Built to last with a sturdy all aluminum case and G-10 PC board.
Handheld Size: Weighs just 11 ounces.
Protected by MFJs famous No Matter What one year limited warranty. MFJ will repair or replace (at our option) your MFJ-854 no matter what for one full year.
Product Manuals
Download Product Manual