MFJ-998RT, REMOTE AUTO TUNER, 1.5kW, 1.8-30 MHz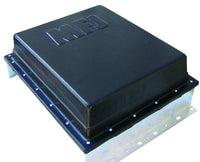 Remote IntelliTuner handles legal limit power CW/SSB.

It's the perfect match for Ameritron's ALS-1300, AL-80B, AL-82, AL-1200 and AL-1500 legal limit amplifiers!

MFJ's 1500 Watt remote automatic antenna tuner is built into a weather-tight ABS plastic cabinet top with a stainless steel bottom.

Includes MFJ-4117 BiasTee Power Injector to send DC/RF down the coaxial line.

MFJ-998RT weighs 9.5 pounds. Large and in charge -- tough ABS plastic cabinet and stainless steel metal chassis measures 13 3/4W x 6 3/4H x 17 1/2D inches.

The MFJ-998RT Full Legal Limit 1500 Watt IntelliTunerTM takes you to the final level in automatic antenna tuners.

With a capability of 1500 Watts SSB and CW, coupled with automatic tuning, your high-power station can now operate essentially hands-free even when frequency and band changes are made.

Fast Automatic Tuning

The MFJ-998RT instantly matches impedances from 12-1600 Ohms using MFJ's exclusive IntelliTune, AdaptiveSearch and InstantRecall algorithms with over 20,000 VirtualAntenna Memories.

When you key your transmitter, MFJ's InstantRecall checks to see if that requency has been used before. If so, tuning is instantaneous. If not, MFJ's IntelliTune algorithm (based on MFJ's efficient SWR Analyzer technology) measures the impedance, snaps the necessary components in place, and then fine-tunes the SWR.

If the antenna impedance is outside the tuner's measurement range, MFJ's AdaptiveSearch algorithm measures the frequency and determines only relevant component values -- which are then searched for fast tuning.

MFJ VirtualAntenna Memory

MFJ's new VirtualAntenna Memory system has 2500 memories. MFJ-998RT has one coaxial antenna and a binding post for end-fed long wire antennas.

Download and Upgrade Remotely

Field upgradeable firmware via the serial port -- download and upgrade your MFJ-998RT as new features are introduced!

MFJ-998RT is protected by MFJ's famous one year NoMatterWhat limited warranty.

MFJ will repair or replace (at our option) your tuner no matter what for a full year.
Videos
Product Manuals