MFJ-1644,WHIP TUNER/ART. GROUND/CURRENT METER, 10-80M, 150W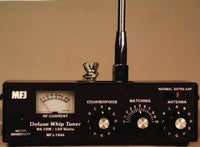 Whip Tuner/Artificial Ground gives instant 80-10M, 150 Watt Antenna
Just add short whip and counterpoise wire and instantly get an effective portable 150 Watt all band 3.5-30 MHz antenna.
It`s effective, compact and simple to use for portable, fixed station and emergencies.
High power, hi-Q 3-core variable loading coil efficiently resonates short whip or random wire. Identical inductor tunes counterpoise. Operates 30-10 Meters with included 4 1/2 foot telescoping whip antenna and counterpoise assembly.
Add longer whip/random wire and external loading coil for more efficient operation especially on 80-30M. 12 foot whip, hamstick, Hustler antennas all work great.
Tune for low SWR with built-in reversible L-network. Current balun decouples radiating elements.
Tune for maximum current on RF Current Meter to give you maximum radiated power and minimum SWR. Sensitivity control lets you use QRP to 150W QRO.
Ultra low capacitance fiberglass antenna/counterpoise insulator minimizes shunting antenna current to ground for maximum radiated power.
Standard 3/8x24 female connector for whip antennas and wing-nut for counterpoise.
SO-239. 7 1/4W x 2 1/4H X 2 1/2D inches.
Product Manuals
Download Product Manual