MFJ-1703B, SWITCH, ANT/XMTR CROSS OVER SWITCH, 1.8-54MHz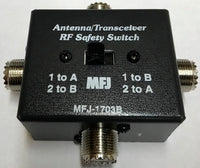 Keeps you expensive transceivers safe from transmitting into absolutely nothing!  No more burning up your radio because you forgot to change your antenna switch!  1.8 to 54 MHz.  Your transceiver is always hooked up to one of two antennas!  Connect two rigs and two antennas and switch to different combinations. 
Handles 300 watts PEP SSB, Handles 150 Watts CW.  Handy mounting tabs for wall mounting.  All metal construction, switches 50-75 Ohm unbalanced lines.
Videos
Product Manuals
Download Product Manual