MFJ-903, 6-M TUNER/50-54 MHz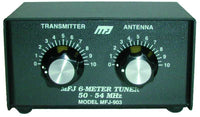 Six Meter tuner. Low SWR with most any coax fed antenna.
You`ll get more power out of your trans-ceiver and into your antenna for more DX.
Works with solid state and tube rigs, 50-60 MHz.
Tiny 5W x 2 1/2H x 3D inches makes it great for the backpack!
Product Manuals
Download Product Manual