B-310-G, VHF, HT AMP, 3W-IN, 100W-OUT, 144-148 MHz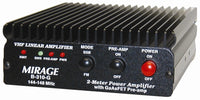 Temporarily OUT of STOCK.
For an incredibly low price, you can boost your 2 Meter handheld to a powerful 100 Watts mobile/base!
Turn "you`re breaking up... Cant copy..." into "Solid Copy ... Go Ahead."
Talk further... Reach distant repeaters .... log onto faraway Packet bulletin boards.
This rugged Mirage B-310-G amplifier operates all modes: FM, SSB and CW. Its perfect for all handhelds up to 8 watts and multi-mode SSB/CW/FM 2 Meter rigs.
Low Noise GaAsFET preamp
A built-in low noise GaAsFET receive preamp gives you 15 dB gain -- lets you dig out weak signals.
Fully Protected
SWR Protection prevents damage from antennas whipping in the wind. Reverse Polarity Protection can save your amp if you connect power backwards.
Compact but Powerful
Mirages integrated HeatsinkCabinet and whisper quiet fan gets heat out fast!
The results? An ultra-compact 4.75" x 1.75" x 7.75" 2 %frac12; pound amplifier that delivers a super power 100 Watts. It will get you through the most congested bands and snag a rare contact!
Free Accessories
Free 3 foot handheld to B-310-G coax cable - just plug and play! Free mobile bracket! Free rubber mounting feet!
Plus More...
Automatic RF sense Transmit/Receive switch. Remote keying jack. LEDs monitor "On Air", high SWR, pre-amp, power. Push buttons select SSB/FM, pre-amp, power. Draws 15 Amps at 12-15 VDC.
Full one year Mirage warranty
With Mirages legendary ruggedness, you may never need our superb warranty.
MIRAGE 2 – Meter Amplifiers - Typical Power Curve
Watts In
0.25
0.5
1
2
3
4
5
6
7
8
B-34-G Watts Out
8
12
18
30
33
35
35
35
35
35
B-310-G Watts Out
25
50
75
95
100
100
100
100+
100+
100+
DB-35 Watts Out (2 Meters)
10
18
30
40
45
45
45
45+
45+
45+
DB-35 Watts Out (440 MHz)
4
10
16
26
32
35
35
35+
35+
35+
Product Manuals
Download Product Manual