BD-35, DUAL BAND 144/440 HT AMP, 45/35W OUT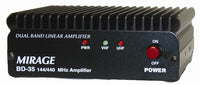 Temporarily OUT of STOCK.
Mirage Dual Band BD-35 •
45 Watts Output on 2 Meters • 35 Watts output on 440 MHz •
New! D*STAR COMPATIBLE! •
Reverse Polarity Protection •
Free Mobile Bracket Included •
Works with all majorbrand Handhelds up to 8 Watts •
Auto RFsense T/R switch
Add this MIRAGE BD-35 dual band amp and boost your handheld to a much more powerful mobile or base - 45 Watts on 2 Meters or 35 Watts on 440 MHz! Get 35 Watts out with just 4 Watts in! BD-35 is now D-STAR compatible! MIRAGE's exclusive FullDuplex Amp™ lets you talk on a band and listen on another band at the same time -- just like a phone conversation (requires compatible HT). Features auto band selection, reverse polarity protection, on-air leds, single connector for dual band radios/antennas, free mobile bracket and more! Works with HTs to 7 Watts. Compact 5" W x 1 ½" H x 5" D. Draws 7 Amps at 13.8 VDC.
MIRAGE Dual Band 2-Meter / 440 MHz Amplifier for HTs - Typical Power Curve
Watts In
0.25
0.5
1
2
3
4
5
6
7
8
BD-35 Watts Out (2 Meters)
10
18
30
40
45
45
45
45+
45+
45+
BD-35 Watts Out (440 MHz)
4
10
16
26
32
35
35
35+
35+
35+
Product Manuals
Download Product Manual