D-1010-NR, UHF AMP,30W IN-100W OUT,430-450 MHz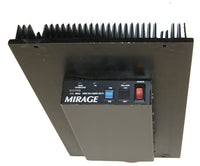 Temporarily OUT of STOCK.
11 models to choose from - continuous duty all mode FM/SSB/CW repeater amplifiers for 6 M, 2 M, 220 MHz, 450 MHz, and ATV service.
440 MHz and Amateur TV Models
FEATURES
Cool Running - A10" high by 19" wide full finned rack-mounted heatsink keeps the transistor temperatures low for long life. The chassis cover is perforated so air convection will keep the circuit board area cool. The RF board is low loss Teflon® for minimum dielectric heating.
Reliable - The RF change-over relay has been eliminated on this model to provide the highest order of reliability. Teflon® connectors are standard on this well-designed unit.
Protection - The amplifier will shut off if conditions cause the heatsink temperature to rise to an unsafe level of operation.
All Mode Operation - Class AB linear operation is rated for FM, SSB, CW and ATV operation.
Warranty - Mirage repeater amplifiers are guaranteed for one year against failure due to defective workmanship or materials.
MIRAGE Repeater Amplifier Specifications

Model
Input Power
Max Output Power
MHz
A-1015-R
.25 – 5 W
98 W
50 – 52 MHz
B-1018-R
.25 – 3 W
130 W
145 – 148 MHz
B-2518-R
.5 – 10 W
111 W
145 – 148 MHz
C-211-R
.25 – .5 W
80 W
223 – 225 MHz
C-1012-R
.25 – 6 W
96 W
223 – 225 MHz
C-2512-R
.05 – 15 W
90 W
223 – 225 MHz
D-1010-NR
.25 – 4 W
80 W
440 – 450 MHz
D-3010-NR
1 – 15 W
75 W
440 – 450 MHz
D-100-ATVN-R
.25 – 1 W
52 W
440 – 450 MHz
D-1010-ATVN-R
.25 – 4 W
80 W
420 – 450 MHz
Product Manuals
Download Product Manual