MFJ-4125, SWITCHING POWER SUPPLY, BASIC, 25 AMPS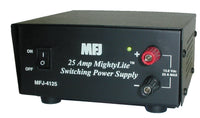 The MFJ-4125 Switching Power Supply is similar to the popular MFJ-4225MV but much smaller and doesn`t have meters or the cigarette lighter socket.
5-way binding posts are for high current radio connects and a pair of speaker type push-on terminals are for low current accessories. Super protection modes include Over Voltage and Over Current. Whisper quiet internal cooling fan generates tremendous air flow to help keep components cool.
The MFJ-4125 Switching Power Supply has switchable AC input voltage. 110 VAC at 47-62 Hz and 220 VAC at 47-63 Hz. Super regulation. Works with AC input 85-135 VAC or 170-260 VAC.
It weighs only 2.9 pounds and measures an unbelievable 5½W x 2½H x 5¾D -- its the smallest and lightest power supply in ham radio!
Specifications and Features
25 Amps MAX, 22 Amps Continuous at 13.8 VDC
Lightweight, only 2.9 lbs.
Compact, only 5 ½" W x 2 ½" H x 5 ¾" D
Five-Way binding post for high current radios
Quick-Connectors for low current accessories
Over Voltage protection
Over Current protection
Quiet Internal Cooling Fan
Input Voltage: Switchable AC Input Voltage
110 Vac at 47-62 Hz
220 Vac at 47-63 Hz
Super Regulation:
Works with AC input from 85 to 135 Vac or from 170 to 260 Vac
AC Line Fused (5 Amps)
Meets FCC Class B
No Matter What one year limited warranty
Product Manuals
Download Product Manual