MFJ-4225MV, SWITCHING PS,25A , 12VDC, AV MTR, ADJ. LED LIGHT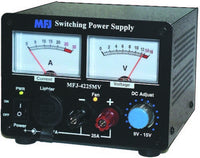 MFJs new MFJ-4225MV Voltage Switching Power Supplies do it all! Power your HF or 2M/440 MHz radio and accessories.
MFJs MightyLites Switching Power Supplies are so light and small you can carry them in the palm of your hand! Take them with you anywhere. No more picking up and hauling around heavy, bulky supplies that can give you a painful backache, pulled muscle or hernia. MFJs 25 Amp MightyLite weighs just 4.2 lbs. -- thats 5 times lighter than an equivalent conventional power supply.
No RF Hash!
These babies are clean... Your buddies wont hear any RF hash on your signal! None in your receiver either! Some competing switching power supplies generate objectionable RF hash in your transmitted and received signal. These super clean MFJ MightyLites Switching Power Supplies meet all FCC class B regulations.
Low Ripple...Highly regulated
Less than 35mV peak-to-peak ripple under 25 amp full load. Load regulations is better than 1.5% under full load.
Fully protected
You wont burn up our power supplies! They are fully protected with Over Voltage and Over Current protection circuits.
Worldwide Versatility
MFJ MightyLites Switching Power Supplies can be used anywhere in the world! They have switchable AC input voltage and work from 85 to 135 VAC or 170 to 260 VAC. Replaceable fuse.
MightyLites....Mighty Features
The MFJ-4225MV MightyLite Switching Power Supply feature a front panel voltage control. It lets you vary the output voltage from 9 to 15 volts DC and gives you a highly regulated voltage output -- this includes 12 Volt DC and 13.8 Volt DC!. You get an easy access front panel with five way binding posts for heavy duty use and a cigarette lighter socket for mobile accessories.
Large 3 inch dual meters are brightly illuminated to make it easy to monitor load voltage and current. An internal fan efficiently cools your power supply for long life!
Specifications and Features
25 Amps Surge, 22 Amps Continuous at 13.8 Vdc
Front Panel Adjustable Voltage (9-15 Vdc)
Lightweight, only 4.2 lbs.
Compact, only 5 ¾" W x 4 ½" H x 6" D
Easy access Front Panel Two ways output:
Five-Way binding post for HF/VHF radio
Cigarette Lighter Socket for mobile accessories
Over Voltage Protection
Over Current Protection
Automatic Reset after shutdown
Lighted Dual Meters: Volt-meter and Amp-meter monitor load continuously
Internal Cooling Fan with "Fan On" LED
Input Voltage: Switching AC Input Voltage
110 VAC at 47-62 Hz
220 VAC at 47-63 Hz
Product Manuals
Download Product Manual