MFJ-4230MVP, COMPACT SWITCH PS, MTR/PP/4-16V ADJ. 110/220VAC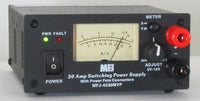 MFJ 30A MightyLite adds pair of PowerPoles
MFJ-4230MVP super compact 30 Amp MightyLite switching power supply has all of the popular features of the MFJ-4230MV . . .
PLUS, it adds a pair of Anderson PowerPoles for ARES and RACES, and others that enjoy the Anderson PowerPole connections. See below for a large selection of Anderson PowerPole cables and accessories.
The front panel still features 5-way binding posts that allow easy access connection for your rig and station accessories. MFJ-4230MVP is 25 Amps continuous and 30 Amps surge @13.8 VDC. Selectable 4-16 voltage.
Choose 120/240 @ 47-63 Hz to take it with you anywhere in the US and abroad.
Videos
Product Manuals
Download Product Manual