SPS-75MV,IT,SWITCHINGPS,75A,MTR,ADJ.13.8VDC,110-220VAC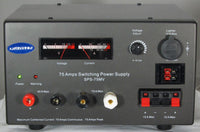 Base Operation Power Supply for your AL-500M Amplifier

Ameritron's heavy duty 75 Amp switching power supply is excellent for powering your HF mobile amplifier or your HF and VHF/UHF rigs and accessories.

It's great for Ameritron's ALS-500M Solid State Mobile HF Amplifier and others with a power requirement of up to 75 Amps.

SPS-75MV delivers 75 amps maximum and 70 amps continuously without even flexing its muscles. Plugs into any 110 VAC wall outlet.

It's highly regulated with load regulation better than 1%. Ripple voltage is less than 12 mVpeak-to-peak at rated load.

No RF hash! Ameritron's exclusive HashSQUASH™ Filtering System eliminates RF hash that plagues other manufacturer's switching power supplies.

Fully protected; your SPS-75MV has Short-Circuit, Over-load and Over-Temperature protection systems. Also has an auto restart after a fault. Has power on and Fault LED indicators.

You get front panel adjustable voltage from 4.0 to 16 VDC. Front-panel meters with backlight let you monitor voltage and current simultaneously.

Attractive front panel features several options for connecting your gear: One pair of 5-way binding posts, two pair of Anderson PowerPoles™ one pair of high-current 5-way binding posts, a cigarette socket for mobile accessories, and two pairs of quick connects.

Whisper quiet fan speed increases as load current increases and keeps components cool and protected. Battery charging feature.

Measures 9 ¾" x 5 ½" x 9 ½". Weighs just 10.5 lbs., so it's still light enough to carry on DXpeditions, camping trips and vacations. No more hauling around big, bulky conventional power supplies that can give you a hernia!