MFJ-9214, QRP POCKET WATTMETER/DUMMY LOAD, 5 WATT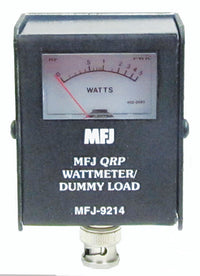 QRP WattMeter/Dummy Load. 

Check your true QRP output power with this sensitive MFJ QRP Watt-meter. 

Has a built-in 50 Ohm dry load for testing your rig. 

Gives reading to 5 Watts full scale from 1.8 to 150 MHz. 

Has BNC male that fits directly to your BNC radio input. 

Compact 2W x 2 1/4H x 1 1/2D inches. 

Fits in your pants pocket -- don't leave home without it!