VEC-1500K, KIT, SOLDERING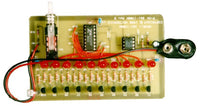 The Best Home-Study Soldering Course Available!
This professional-grade soldering course was designed for schools and individuals. Includes theory, quizzes, PC board and components for soldering practice. Taking this course will result in professional soldering skills and fun blinking LED project. This course covers all of the latest tools, techniques and materials youll need for "through-hole" style PC board assembly and repair. When you complete this course youll be ready to tackle a wide range of jobs on the bench and in the field. Short, concise lessons cover topics like solders and fluxes, product safety, soldering irons, circuit boars, and much more.
Skill Level: Simple Calls for a few basic tools -- a soldering iron, cutters, pliers, wire-strippers and a small screwdriver. Note: This is merely the kit. If you would like to purchase a case for your electronic kit as well, you will need to purchase it separately.
Product Manuals
Download Product Manual