AT-100, SWL ACTIVE ANTENNA, 300kHz - 30MHz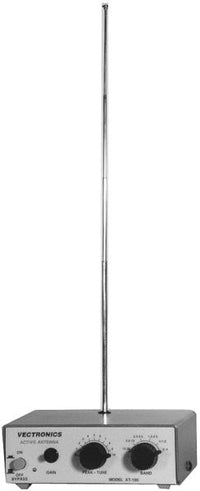 If you want to expand your range or just want to get better reception from the stations you listen to, the Vectronics AT-100 Active Antenna is just what youre looking for. This compact Active Antenna is perfect for indoor use by itself or with an outside antenna.
This antenna tunes from 300 KHz to 30 MHz, which covers AM broadcast, all shortwave and all amateur radio bands. The signals from the whip are electronically amplified by as much as 10 dB!
Unlike previous designs our antenna uses a tuned input that provides selectivity (controllable from the front panel) therefore reducing interference and noise, and increasing the signal you do want to hear.
AT-100 uses a 9 VDC battery or can be plugged in with an optional AC adaptor. Its ideal to pack with your shortwave radio on your next trip for much improved reception.
It features an anodized chassis, an electronics powder coated painted cover and pem nuts to avoid self tapping screws. Built in the USA using the best components and guaranteed to last!
If youre an apartment or condo dweller, you dont have to suffer through poor reception because of antenna restrictions. Your prayers are answered with Vectronics AT-100 Portable Active Antenna Tuner.