ADL-1500, DUMMY LOAD, WITH OIL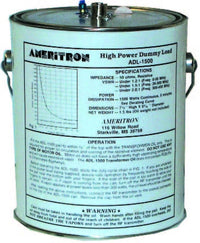 Ameritrons ADL-1500 legal limit oil filled dummy load lets you run the maximum legal limit of 1500 watts for a full five minutes. The ADL-1500 has high quality industrial grade transformer oil (no PCB) and a heavy duty 50 Ohm resistor.
Ameritrons Legal Limit oil filled dummy load gives you SWR under 1.2 to 30 MHz and low SWR to 400 MHz. Durable, sturdy gallon can measures 7 1/2 (height) by 6 5/8 (depth) inches.
To order this product without the industrial grade transformer oil, order the ADL-1500X.
Product Manuals
Download Product Manual