VEC-212, CODE PRACTIC OSCILLATOR WITH KEY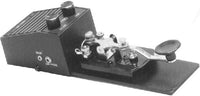 Vectronics Deluxe Code Practice Oscillator features a Morse straight key on a non-skid heavy steel base that stays put on your table.
Vec-212 Deluxe Code Practice Oscillator is easy to take along wherever you go. its a solid 8.5x2.25x3.75 inches.
A volume control lets you adjust it from barely audible to full blaring sound. you can practice without bothering anyone. A tone control gives you a wide adjustment, from high "squeaky" to low "booming" tones. You get an earphone jack for private listening.
Runs on a 9 volt battery (not included) or 240 VAC with optional adaptor, AC-09 that plugs into a jack on the side.
When youre finished cleaning up your soppy fists with your Practice Oscillator, hook the straight key to your transmitter and go on t he air like you were born working QSOs!
Dont pass up a super buy! Built-in speaker. Adjustable contacts. Handsome black metal and durable plastic.
Product Manuals
Download Product Manual