B-34-G, 2-M AMP, 2W-IN/35W OUT, GFET, FM/SSB/CW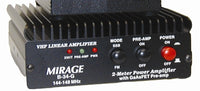 Temporarily OUT of STOCK.
Add this MIRAGE amp to your 2 Meter handheld and get 35 Watts output; talk further, longer, clearer .
First-class strip-line techniques and modular construction gives superb RF performance and unsurpassed reliablity . . .
Custom wrap around heatsink provides excellent heat distribution - runs cool for extra long life. Reverse polarity protection can save your amp and your pride if you connect power backward . . .
Automatic RF sense transmit / receive switch makes operation easy. Low input SWR keeps your handheld safe from over heating. Individual pushbutton switches lets you select FM/SSB operation, receive preamp on/off and power on/off.
LEDs show On-Air, receive preamp on and power on. 5 1/4" x 1 3/4" x 4 3/4". Free mobile mount bracket, hardware.
B-34. Like B-34-G but FM only, less preamp, mobile bracket. Tiny 3 1/8" x 1 3/4" x 4 1/4".
MIRAGE 2 – Meter Amplifiers - Typical Power Curve
Watts In
0.25
0.5
1
2
3
4
5
6
7
8
B-34-G Watts Out
8
12
18
30
33
35
35
35
35
35
B-310-G Watts Out
25
50
75
95
100
100
100
100+
100+
100+
DB-35 Watts Out (2 Meters)
10
18
30
40
45
45
45
45+
45+
45+
DB-35 Watts Out (440 MHz)
4
10
16
26
32
35
35
35+
35+
35+
Product Manuals
Download Product Manual