AL-800NT, HF AMPLIFIER, 1.25kW, 800 TUBE, NO TUBE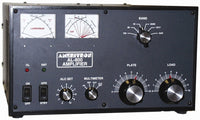 Ameritron's compact AL-800 / AL-800H amps are both desktop linears with plenty of muscle!
At 14.25" x 8.5 x14.5", the more compact AL-800 uses a single 3CX800A7 to provide 1250 Watts PEP SSB and 850 Watts CW with 85 Watts typical drive level.
And the AL-800 will even run from a 20-Amp 120 VAC line source if desired. AL-800 typically draws 17 Amps peak current at 120 VAC, or 8 Amps at 240 VAC and weighs just 51 lbs.
For more power and headroom, the AL-800H uses a pair of 3CX800A7 tubes to easily provide 1500 Watts PEP/CW with a typical drive level of just 55 Watts.
The AL-800H draws 14 Amps peak current at 240 VAC (1500 Watts CW output) and weighs just 52 lbs. Other than power differences, these amplifiers are very similar in features and operation. Both cover 160-15 Meters, and are modifiable to cover 12/10 M with proof of your FCC license.
Both include a Step-Start™ input power circuit, a time delay circuit to allow for tube warm-up, thermal overload protection, grid current limiting to protect your tube(s), a DynamicBias™ circuit and a built-in multi-voltage (14 user-selectable AC line voltages from 90-140; 200-250 VAC) heavy duty power transformer. Hefty 32 lb. grain orientated silicone steel core transformer.
Front panel monitoring and tuning functions are also virtually identical. Both amplifiers include a Standby/Operate switch for barefoot or full power operation, an ALC SET control, Transmit and Fault LEDs.
Dual LED illuminated Cross-Needle meters provide detailed monitoring of amplifier performance. The left meter continuously measures grid and plate currents, and the right meter continuously measures peak RF output power on one scale, and plate voltage, Reflected power and SWR, ALC voltage, and ALC adjustment set.
Quiet pressurized ventilation keeps tubes safely cooled. A Pi/Pi-Loutput network gives you smooth tuning and wide matching range. Vernier reduction drives make tuning and loading adjustments smooth and easy.
Output Power:
1250 Watts PEP, single 3CX800A7
All band operation:
160-15 meters including WARC bands.
User modifiable for 12 and 10 meters.
Genuine Eimac tube:
Single Eimac 3CX800A7.
Tuned input circuit:
Adjustable slug tuned input circuit.
Output network:
Pi/Pi-L gives you smooth tuning and wide matching range.
Tube protection:
Grid current limiting circuit protects your tubes.
ALC control:
Front panel adjustable, true ALC control.
Vernier Reduction drives:
Tuning and loading reduction drives make adjustments smooth and easy.
Heavy Duty power supply:
Uses 32 lb. grain orientate silicon steel core transformer and high capacitance computer grade filter capacitors.
Multi-voltage operation:
14 user selectable AC line voltage from 90 - 140 VAC; 200-250 VAC.
Air cooled:
Quiet pressurized ventilation keeps tubes safely cooled.
Dual illuminated cross-needle meters:
Two cross-needle meters that read peak forward power, reflected power, SWR, high voltage, grid current and plate current.
Step-Start Inrush Protection:
Stops damage to your amplifier from inrush current.
Attractive Lexan front panel decal
Compact Desktop Size
One Year Warranty
Ameritron AL-800 Variants
One Eimac®
3CX800A7 tube
Two Eimac®
3CX800A7 tubes
One Import
3CX800A7 tube
Two Import
3CX800A7 tubes
USA 120V
AL-80
AL-800F
USA 240V
AL-800H
AL-800HF
Export 220/240V
AL-800X
AL-800HX
Export 220/240V CE certified
AL-800XCE
AL-800HXCE
Product Manuals
Download Product Manual