ALS-600S, 600WATT, SOLID STATE AMP W/SWITCHING POWERSUPPLY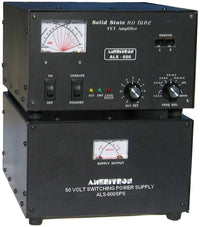 No tuning, no fuss, no worries - just turn on and operate ... includes AC power supply, 600 Watts output, continuous 1.5-22 MHz coverage, instant bandswitching, no warm up, no tubes to baby, fully SWR protected, extremely quiet, very compact
-Ameritrons revolutionary ALS-600 is amateur radios ONLY linear amplifier that uses four rugged TMOS RF power FETs - gives unequaled no tune solid state performance.
-Includes Ameritrons no tune FET Amplifier and a 120/220 VAC, 50/60 Hz AC power supply for home operation.
-Instant bandswitching, no tuning, no warm up -Output Power - 600 Watts PEP, 500 Watts CW
-Continuous Coverage - 1.5 to 22 MHz; 10/12 Meters with easy-to-install optional kit, $59.95 plus s/h
-SWR Protection - prevents amplifier damage if you switch to wrong band, use wrong antenna or have high SWR
-Over Power Protection - if output forward power or reflected power exceeds safe level, output power is automatically reduced to prevent amplifier damage by controlling ALC to exciter.
-Extremely quiet - low speed, low volume fan is so quiet youll hardly know its there, unlike noisy blowers used in other amps.
-Very Compact - 6 x 9 1/2 x 12 inch amplifier takes up less desktop space than your transceiver and weighs 12 1/2 pounds.
-Illuminated Cross-Needle SWR/Wattmeter - lets you read SWR, forward and reflected peak power simultaneously
-Operate/Standby Switch - lets you run "barefoot", but you can instantly switch to full power if you need it.
-Front Panel ALC Control - exclusive Ameritron feature - convenient front panel control lets you adjust your output power.
-Transmit, ALC SWR LED indicators - keeps you informed.
-12 VDC output jack - lets you power low current accessories.
-Separate ALS-600PS power supply (included) can be placed conveniently out of the way and plugged into your nearest 120 VAC outlet - no special wiring needed. Made in USA.
-enjoy 600 Watts of no tune solid state power. Call your favorite dealer for your best price, order ALS-600 with power supply.
-Massive choke input filter greatly improves voltage regulations nd reduces peak AC line current.
-Ameritrons exclusive Multi-Voltage Power Transformer lets you compensate for stressful high line voltage and performance robbing low line voltage.
-Step Start Inrush Protection stops damaging inrush currents and extends life of power supply components.
-Illuminated Cross-Needle Meter monitors voltage and current of 50 VDC line.
-Extremely quiet fan.
-Very Compact 6" x 9 ½" x 12" - can be placed conveniently out-of-way.
-Wired for 120 VAC, supplies 50 VDC at 25 amps to ALS-600 amplifier.
-Also use on 100-130 VAC and 220-250 VAC, 50/60 Hz.
-Draws less than 12 amps at 100 VAC and less than 6 amps at 230 VAC.
Made in the USA
ALS-600 Variants
Base Model w/ 50V Power Supply - ALS-600
Base Model w/ Switching Power Supply - ALS-600S
220V Export Model w/ 50V Power Supply - ALS-600X
220V Export Model w/ Switching Power Supply - ALS-600SX
110V Export Model w/ 50V Power Supply - ALS-600Y
Switching Power Supply Only (No Amp) - ALS-600SPS
Product Manuals
Download Product Manual