AR-40, ROTATOR, FM-TV-COMPACT ARRAY, 3 SF WIND LOAD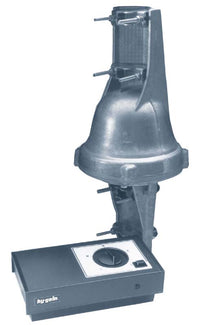 The AR-40 is for large FM-TV and compact communication antenna arrays up to 3 square feet wind load area. Dual 12 ball bearing race is exclusive to its class. Automatic position sensor never needs resetting.
Fully automatic control -- just dial and touch for any desired location. Solid state, low voltage control, safe and silent operation. It has a maximum mast size of 2 1/16 inches. Includes MSLD light duty lower mast support. Operates at 110V.
AR-40 Rotator Specifications
Wind Load Capacity (inside tower)
3.0 square feet
Wind Load (w/ Mast Adapter)
1.5 square feet
Turning Power
350 pounds
Brake Power
450 pounds
Brake Construction
Disc Brake
Bearing Assembly
Dual race/12 ball bearings
Mounting Hardware
Plated clamps/steel bolts
Control Cable Conductors
5
Shipping Weight
14 pounds
Effective Movement (in tower)
300 ft/lbs.
Product Manuals
Download Product Manual