ARF-500K2, ALS-500M UPGRADE KIT, W/ARI-500, ARF-500K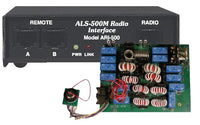 The ARF-500K2 is an upgrade kit containing both the ARF-500K and the ARI-500 Radio Interface.
The ARF-500K is a remote kit for older ALS-500M mobile amps with a serial number below #13049. Includes filter/relay board for ALS-500M, ALS-500RC Remote Head, cables, hardware, and instructions.
The ARI-500 Amplifier Radio Interface reads band data from your transceiver so you can automatically bandswitch your ALS-500M amplifier.
Product Manuals
Download Product Manual