ATR-30, ANTENNA TUNER, HF, EDGEROLLER, 3kW, 110/220VAC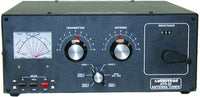 Handles 1500 watts carrier
Super high Current edge wound silver plated Roller Inductor
500 pf tuning capacitors with 6:1 vernier reduction drives
3 core choke balun
6 position antenna switch
True peak reading meter

Ameritrons ATR-30 true Legal Limit roller inductor antenna tuner is ham radios toughest! Itll handle 1500 Watts continuous carrier output on all modes and all HF bands into most antennas -- even on 160 meters where most antenna tuners fail. Its perfect for Ameritrons most powerful amplifiers where the ATR-30 just loafs. All band coverage lets you operate 1.8 - 30 MHz including all MARS and WARC bands.

Super High Current Roller Inductor
Youll see Ameritrons new super high current air core roller inductor. Its edge wound from a thick solid copper strip and silver plated. This produces a large surface area and a massive conductor. It can carry huge circulating RF currents and withstand tremendous heat thatll melt or burn ordinary roller inductors. A gear driven turns counters and crank knob gives you precise inductance control.

Two 500 pf Tuning Capacitors
Two 500 pf -- the highest of any antenna tuner -- variable transmitting capacitors give you no-arc wide range impedance matching for true high power performance. 6:1 vernier reduction drives makes capacitor tuning smooth and easy.

Super Balun, 6-position Antenna Switch
Super heavy duty three core choke balun lets you match virtually any balanced feedline antenna without core saturation. A 6 position antenna switch lets you select your desired operating antenna.

Read True Peak power
Ameritrons active electronic true peak reading meter accurately reads forward and reflected power and SWR simultaneously on a lighted Cross-Needle meter.

Roomy Cabinet maintains High-Q
Roomy extra-strong .080 inch thick aluminum cabinet gives highest efficiency and lowest loss.
Product Manuals
Download Product Manual