DCU-2P, DIGITAL PULSE CONTROLLER, FOR HAMS, T2X, 110VAC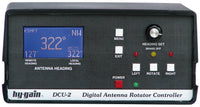 The DCU-2 advanced digital controller can be used with any HAM's or Tailtwister rotators. Large, graphic LCD screen (1 3⁄8" W x 2 5⁄8" H) with large bright numbers and letters on an easy-to-the-eye blue background blends in with most modern stations. LCD displays rotator heading, external controller heading and even your callsign. DCU-2 has automatic or manual control. Dial in your heading with the internal control and press "Rotate", the antenna will automatically rotate to your direction. Headings are in one degree increments. Left/right buttons allow manual control.
More Advanced features:
AutoBrake Release-- No need to remember to release brake or release too soon -- release time is automatic, settable 0-8 seconds.
Coast feature allows for mass of the antenna to come to a stop in the right direction before the brake locks everything down. Coast delay cuts off the motor before reaching the selection -- reduces overshoot due to antenna mass.
Auto jogs make sure that the antenna is unlocked and free before turning begins. It's most helpful for older rotators with "sticky brakes", auto control will jog the rotator backwards slightly before going in the proper direction, insuring that brake pressure is eased up enough to release. Fine beam heading touch-up is quick-and-easy with manual keys -- no worrying about the brake.
Offset feature allows display reset to indicate actual heading. Adjustable sleep mode 0-255 minutes.
USB/RS232 ports allow computer-control of DCU-2. Ham Radio Deluxe, other compatibles.
Field upgradeable firmware. 8.5"W x 4.3"H x 9"D. Requires 110V. See the DCU-2X for 220 VAC operation.
Product Manuals