DCU-3PX, DIGITAL PULSE PROG, CNTR, FOR HAMS, T2X, 220VAC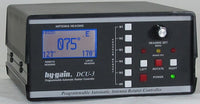 DCU-3 Programmable Rotator Controller
6 Programmable memories; Point & shoot and manual control!
DCU-3 Digital Controllers feature six presets for beam headings, 1 degree accuracy and gives you fully automatic or manual control of your HAM or Tailtwister Rotators.Dial in your beam heading and press the rotate button or let Ham Radio Deluxe (or other) control your DCU-3. Your antenna automatically rotates to desired direction precisely and safely. First,DCU-3 makes sure your antenna is free and safely unlocked before turning begins and then turns off your motor before your antenna reaches its finaldestination. Your antenna gently coasts to a stop before the brake locks. Greatly reduces potentially damaging overshoot. Fine tuning and full manual control is effortless with automated Left and Right direction buttons - - no more worrying about manually releasing and relocking thebrake. Brake automatically releases before fine tuning begins and relocks after fine tuning is completed. Bright blue LCD displays actual, dial-in beam, and computer controlled beam headings in one degree increments and your call sign. AutoBrake Release - no need to remember to release brake or release too soon release time is automatic 0-8 seconds.
Coast feature allows antenna to gently stop be-fore brake locks. Adjustable coast delay (0-10 degrees) turns off motor before antenna reaches its final destination to reduce potentially damaging overshoot. AutoJog unlocks and frees antenna before turning -- great for older rotators with "sticky" brakes. It jogs rotator backwards slightly to ease brake pressure enough to release. Offset feature allows you to calibrate display to show actual beam heading.
USB/RS-232 ports.
Adjustable LCD sleep time.
Field upgradeable.
8.5W x 4.3H x 9D inches
110 VAC.
DCU-3X for the 220 VAC version
Product Manuals